"The Gunners" strengthened their leadership in the league table of England.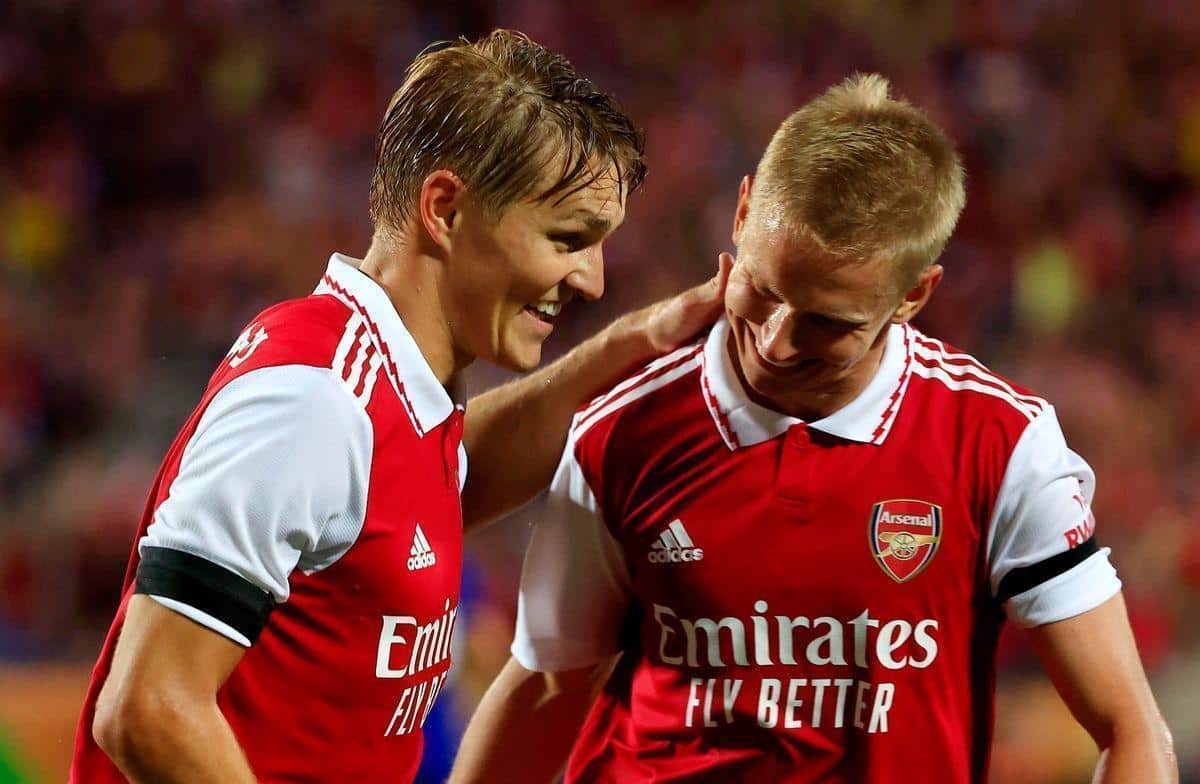 Martin Edehor and Oleksandr Zinchenko / photo twitter.com/Arsenal
On Sunday, January 15, the match of the 20th round of the English football championship took place, in which "Tottenham" and "Arsenal" met.
The game was played at the Tottenham Hotspur stadium in London and ended with a 2-0 victory for the Gunners.
In the 14th minute of the match, Arsenal midfielder Bukayo Saka entered the penalty area and shot hard into the center of the penalty area, Tottenham goalkeeper Hugo Lloris tried to play an interception, but made a gross mistake and deflected the ball into the net of his own goal.
Even before the break, the Gunners were able to double their lead – in the 36th minute, Norwegian midfielder Martin Edegore scored.
"Tottenham" – "Arsenal" – 0:2
Naked: Lloris, 13 (ag), Edegor, 36
"Tottenham": Lloris, Romero, Dier, Lenglet (Davies, 89), Doherty (Richardson, 71), Sarr (Bissouma, 76), Geibjerg, Sessegnon (Perisic, 76), Kuluszewski (Hill, 88), Son, Kane
"Arsenal": Ramsdale, B. White, Saliba, Gabriel, Zinchenko (Tomiasu, 85), Partey, Xhaka, Saka, Edegore (Smith-Row, 90+4), Martinelli (Tierney, 79), Nketia (Vieira, 90+4 )
Warnings: Martinelli, Gabriel – Romero, Sessegnon, Sarr, Lenglet
Match review:
Let's add that the Ukrainian midfielder of "Arsenal" Oleksandr Zinchenko entered the match against "Tottenham" in the starting lineup of the "Gunners" and spent 86 minutes on the field. The Ukrainian was not distinguished by effective actions.
It is also worth noting that Mikel Arteta's team beat Tottenham on their field for the first time since 2015.
After 18 matches played, "Arsenal" has 47 points. Mikel Arteta's wards are confidently leading the Premier League standings. The closest pursuer, Manchester City, earned 39 points. "Tottenham" is in fifth place with 33 points.
In the next round of the Premier League, "Arsenal" will play against "Manchester United" on January 22. "Tottenham", in turn, will compete with "Manchester City" on January 19.
You may also be interested in news:


Fuente: espreso.tv