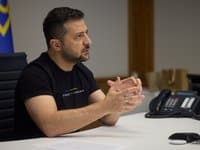 The members of the coalition of Ukraine's partners are able to "make a Rammstein of tanks," President Volodymyr Zelensky has said.
"Don't bargain about different numbers of tanks, but open a principled supply that will stop Russian evil," he said Friday, speaking via video link at a meeting of defense ministers of Ukraine's partners held in Ramstein, Germany.
"And we also count that your next gatherings will go down in history as Ramstein of F16 and long-range missiles. It is in your power to guarantee such artillery and anti-aircraft defense that will crush terror," the head of state said.
"And I am addressing you not as Ministers of military warehouses, but as Ministers of defense. Defense of everything that makes our world free. I address you as those who serve the values of freedom," Zelensky also said.
According to him, "it is the time now to protect those dreams. This is the future. I am sure you do not want to allow such a world order, where hatred will rule. Your parents would not want that kind of world for you. You would not want such a world for your children. But this is exactly such a world order that Russia seeks for all of us. N Not only for Ukraine! But for the whole world! Russia wants the power to destroy nations. And they talk openly about it in Moscow."
"Russia wants to destroy law and universal human values. And the Russian troops, by their actions, on the territory of Ukraine, are fighting just for this. In order to teach the world to hate… We must act as fast as a father or mother, who saves their child. As a son or daughter who sees that their parents need immediate help," he said.
Fuente: interfax.com.ua