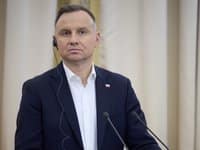 Polish President Andrzej Duda calls on Ukraine's partners and allies to continue to strengthen military assistance to Ukraine, noting that within "a few months or weeks" there will be a decisive moment in the war.
"I am afraid that now, maybe in a few months, maybe weeks, there will be a decisive moment of this war. And this moment is the answer to the question: if Ukraine will survive or not," Duda said at the World Economic Forum in Davos (Switzerland) on Wednesday.
He stressed that the weapons provided to Ukraine are still not enough, as the Russian army continues to accumulate forces, and are probably preparing for a new offensive. In particular, Duda stressed the need to provide the Ukrainian army with modern tanks and missiles.
"Therefore, it is critically important to send additional military support now," the Polish head of state urged.
The President added that he knows and understands Ukraine well, which "wants to become part of the Western community, part of the Western security zone." "They want to be members of the EU, members of NATO, but above all, they want to survive," he said.
Duda stressed that "we need to help them."
Fuente: interfax.com.ua