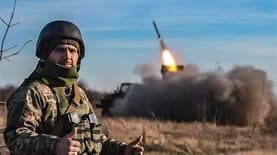 Finland has announced a new 400 million euro military aid package for Ukraine. According to the press service of the Finnish Ministry of Defense, heavy weapons and ammunition will be sent to Ukraine, but the details of the new package are not disclosed.
Follow us on Telegram: only important and verified news
This is already the 12th package from the Finns, the total amount of military assistance is 590 million euros. The 11th military aid package from Finland was estimated at 28.8 million euros.
"The set of defense equipment that will be sent now is clearly the largest of those that we have previously approved. Finland supplies Ukraine with heavy weapons and ammunition," Finnish Defense Minister Mikko Savola said.
For security reasons, the content, method and delivery time are not disclosed.
The department emphasized that the additional assistance took into account both the needs of Ukraine and the situation with the resources of the Finnish Defense Forces.
Biden announced a $2.5 billion US aid package that would include Bradley infantry fighting vehicles, other equipment and ammunition.
Britain, Denmark, Lithuania, Estonia, and Sweden have already announced new military aid packages.
According to the Lithuanian Defense Minister, today the allies will announce the transfer of "hundreds" of armored vehicles to Ukraine.
See also: The President of Finland supported the transfer of Leopard to the Armed Forces of Ukraine if there is a joint European project
Oksana Zhitniuk
If you notice a spelling mistake, select it with the mouse and press Ctrl+Enter.
Source: liga.net