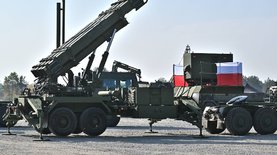 Germany has begun transferring Patriot air defense systems to Poland – they will cover the logistics point where they collect military assistance to Ukraine. This publication reports Spiegel.
Follow us on Telegram: only important and verified news
According to journalists, the Bundeswehr begins the transfer of Patriot to Poland – the first soldiers should depart from Bad Sylze (Mecklenburg-Western Pomerania) on January 16th.
In the coming days, weapons systems will also be redeployed to the country – just three batteries should protect Poland's critical infrastructure near the border with Ukraine.
It is noted that systems from Germany should cover an important transshipment station for helping Ukraine, 30 km from the border.
REFERENCE. Complexes Patriot developed by Raytheon, were first deployed by the US Army in the mid-1980s. Patriot is being modernized and is in service with more than 10 countries, in particular the United States, Israel, Germany, and Spain. Its role is to protect against air and missile threats as part of an integrated air defense system. Depending on the modification, this air defense system is capable of covering a radius of 100+ km, and shooting down ballistic missiles in a zone of 15-20 km. Maximum altitude – 20+ km, speed – 5000 km / h.
See also: US special plan. Patriot to be deployed in Ukraine in less than six months – Kuleba
Dmytro Hrynychenko
If you notice a spelling mistake, select it with the mouse and press Ctrl+Enter.
Source: liga.net