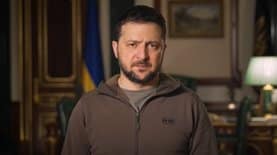 President Vladimir Zelensky held a meeting of the Headquarters of the Supreme Commander-in-Chief, in which the heads of the UVA and the Acting Minister of the Interior took part Igor Klimenko. He said this in an evening video message.
Follow us on Telegram: only important and verified news
He noted that today there were new participants – Klymenko, who "controls everything that depends on the system of the Ministry of Internal Affairs in matters of our defense and security," and the heads of some regional military administrations. They reported on the implementation of the law on national resistance. These are the heads of the Volyn, Zhytomyr, Kyiv, Chernihiv, Sumy, Kharkiv, Dnepropetrovsk, Zaporozhye and Odessa OVAs.
"I think it's understandable why this particular geography. Each element of our defense, in particular territorial defense, must be properly adjusted," Zelensky said.
Commander-in-Chief of the Armed Forces of Ukraine reported at Headquarters Valery Zaluzhny and the commander of the hottest operational direction on the front – "Khortitsa" – Alexander Syrsky.
"We are taking appropriate steps to strengthen our units in the battle for Donbass," Zelensky stressed.
He noted the successes of the border guards of the Luhansk and Kramatorsk detachments that defend Bakhmut – he thanked them for their stamina and ability to inflict on the Russians "exactly such losses that gradually deprive the invaders of the attack." He also thanked the fighters of the special forces of the State Border Guard Service "Dozor" for the effective deterrence of the enemy.
"Now the key task of our state, all of us and our partners is to daily strengthen the terrorist state's feeling that they will not be able to achieve anything in Ukraine. thrown on the battlefield by the owners of the Kremlin," Zelensky said.
He added that one of the most important elements for this task is modern Western tanks, the supply of which Ukraine negotiates with partners. Zelensky thanked those countries that have already made such decisions.
See also: Waiting for Rammstein. Will Ukraine get Western tanks – video LIGA.net
Oksana Zhitniuk
If you notice a spelling mistake, select it with the mouse and press Ctrl+Enter.
Source: liga.net