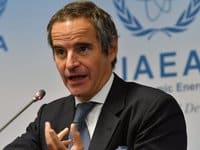 Head of the International Atomic Energy Agency (IAEA), Rafael Grossi, says that the agency's missions at Ukrainian nuclear power plants will work until the end of the war and for some time after.
"The missions arrived at the Ukrainian stations at the official request of the Ukrainian government. I think that the term of work will be quite long. There's a lot we need to do. I think that as long as there is a war, they will be present there. And also, perhaps, after the war," he said at a joint press conference with Prime Minister Denys Shmyhal in Kyiv on Wednesday.
Grossi noted that the IAEA missions after the end of the war would need some time to restore what is damaged. "In order to have an absolutely objective expert assessment of the actual state of things at all these nuclear facilities," he stressed.
Fuente: interfax.com.ua