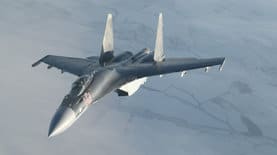 Russia pledged to supply Iran with Su-35 fighter jets, as well as defense systems, missiles and helicopters. About this with reference to the Iranian agency Tasnim reports Deutsche Welle.
Follow us on Telegram: only important and verified news
Shahriyar Heydari, a member of the National Security and Foreign Policy Commission of Iran's parliament, told Tasnim that Iran has sent Russia orders for defense systems, missiles and helicopters.
"Most of these weapons will soon enter the country," he said.
The agency also reports that several Su-35 multirole fighters are due to enter Iran's disposal around March 21.
In early December 2022, the US said it was alarmed by the "full-scale" defense partnership between Russia and Iran.
On January 9, 2023, US national security adviser Jake Sullivan said that Iran's sale of kamikaze drones, which Russia uses to bomb cities and civilian infrastructure in Ukraine, could be regarded as assistance in war crimes.
In early August 2022, the Washington-based Institute for the Study of War (ISW) reported that Iran may have transferred kamikaze drones to Russia in exchange for Russian Su-35 fighters.
On December 25, Western intelligence sources reported that Russia was preparing to hand over Su-35 fighter jets to Iran in the near future, which may have been manufactured under a canceled contract with Egypt.
Serhiy Berezhny
If you notice a spelling mistake, select it with the mouse and press Ctrl+Enter.
Source: liga.net