In order to document the criminal activity of the perpetrator and arrest him, the police carried out a complex of operational measures in several stages over the course of two months. During the authorized searches, an arsenal of weapons and explosive items, including automatic weapons, grenades, grenade launchers, TNT and trench shells, were seized from the suspect.
In October last year, criminal police officers received operational information about the possible involvement in the sale of weapons and ammunition of a native of Dnipropetrovsk region, a resident of the city of Kharkiv.
During the recording of the illegal actions of the offender, the police documented the fact that the offender sold an AK-74 machine gun and 90 cartridges of 5.45 mm caliber for the amount of 84,000 hryvnias.
Operational measures were carried out by criminal police officers and investigators of the Kharkiv District Police Department No. 3, together with employees of the Criminal Investigation Department of the regional police headquarters, operational services and soldiers of the special unit of the special purpose police regiment under the procedural guidance of the Shevchenkiv District Prosecutor's Office of the city of Kharkiv.
On January 14, 2023, during the implementation of the second stage of the complex of operational measures, during the sale by the suspect of an AK-74 assault rifle, five RGN grenades with fuses, more than a thousand cartridges of 5.45 mm caliber and two anti-tank mines in the amount of 160,000 hryvnias, a 34-year-old man was detained by Kharkiv policemen.
In order to recover material evidence of criminal activities of the perpetrator, law enforcement officers conducted authorized searches at his residence, vehicles and garage.
In total, two assault rifles, about 30 grenades, a device for silent shooting, more than 3.7 thousand cartridges, almost 5 kg of TNT, 3 hand grenade launchers, a pistol, smoke grenades, more than 60 accumulative rockets of various types, 4 trench shells and 12 starting powder charges for hand grenade launchers.
Seized weapons, ammunition and explosives have been sent for an expert investigation.
The man was detained in accordance with Article 208 of the Criminal Procedure Code of Ukraine.
The pre-trial investigation is carried out within the framework of criminal proceedings opened under Part 1 of Art. 263 (illegal handling of weapons, ammunition or explosives) of the Criminal Code of Ukraine. The maximum penalty is up to 7 years in prison. Investigations are ongoing.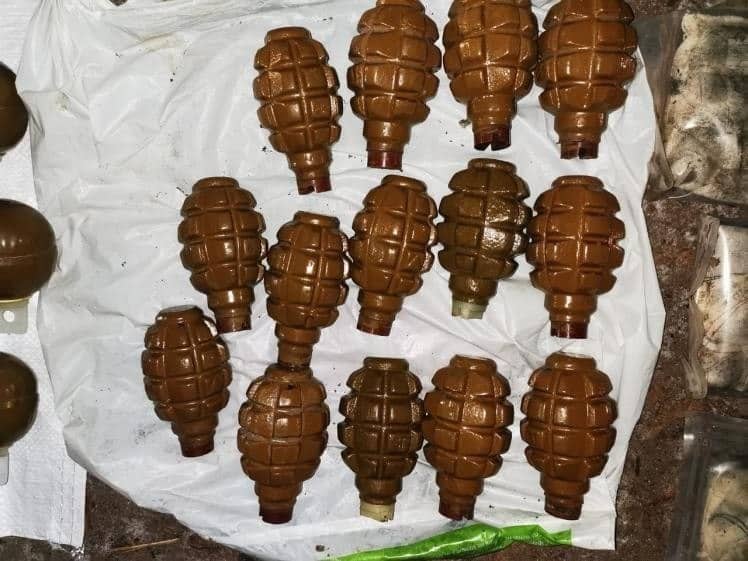 You may be interested
Fuente: atn.ua