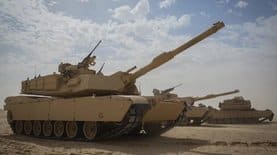 The United States believes that at the moment there is "no point" in supplying Ukraine with Abrams tanks. This was stated by Deputy Pentagon Press Secretary Sabrina Singh during a briefing on January 19.
Follow us on Telegram: only important and verified news
"It just doesn't make sense to supply Abrams tanks at the moment," Singh said after learning that the German chancellor Olaf Scholz refused to supply the Leopard until the States agreed to the transfer of the Abrams APU.
She focused on the maintenance problems of American tanks – the Abrams requires special fuel, while the Leopard and Challenger have a different engine and need diesel. British and German tanks, she says, are a bit easier to maintain, able to maneuver over large swaths of ground before they need to refuel.
She also noted that the States continue to work with other partners and allies around the world "to see what else can be provided to Ukraine," and this is the whole point of tomorrow's meeting in the Ramstein format.
Washington has previously explained the refusal to supply its Abrams tanks with technical reasons – they say they weigh 55 tons and rely on a gas turbine engine that consumes fuel at a tremendous speed.
Answering a question about the possibility of UAF strikes on Crimea, the Pentagon spokeswoman stressed that Crimea is Ukraine, and the States support Ukraine's aspirations to return its territories.
According to CNN and Politico, the US will announce one of the largest military aid packages in the coming days, but it will not include tanks.
Scholz told Biden that he was ready to supply Ukraine with modern Leopard battle tanks, but on the condition that the United States transfer American Abrams tanks to Ukraine, Süddeutsche Zeitung reports. In response, the White House said that each country should make a sovereign decision to provide assistance to Ukraine.
See also: Waiting for Rammstein. Will Ukraine get Western tanks – video LIGA.net
Oksana Zhitniuk
If you notice a spelling mistake, select it with the mouse and press Ctrl+Enter.
Source: liga.net