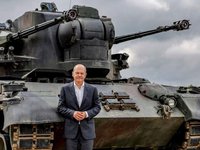 German Chancellor Olaf Scholz has decided to supply combat tanks to Ukraine, we are talking about at least one Leopard 2A6 company, the German edition of Spiegel reports.
According to media reports, the Federal Government wants to grant permission to send such tanks that belong to other states, such as Poland.
Other allies, including from Scandinavia, also want to supply Ukraine with Leopard 2 main battle tanks.
The Wall Street Journal reported in the afternoon that the United States is considering the possibility of supplying a significant number of Abrams main battle tanks. France is also considering the possibility of supplying tanks to Ukraine.
Fuente: interfax.com.ua