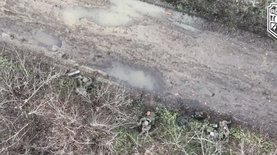 The Main Intelligence Directorate of the Ministry of Defense published another intercept, in which the occupier explains to a friend that the size of the Russian army does not mean its quality.
Follow us on Telegram: only important and verified news
The invader had such a dialogue with a friend.
– 200 breaths…I, 300 breaths…I. P…hey! I thought I was going to a resort. I've eaten such a resort in my mouth, nah…ts. Here the people are dead … I, and there is no sense. There is no technology! Purely with mortars x … firefights rage. Our mortars x … yat, they are mortars, and that's it. And we, x … whether, with machine guns! Who will we do something nah … th "?
– Well, yes. Where is all the technology?
– Fucked up … rivali. Now they are waiting for the new one to arrive.
– Dill, or what?
– Well.
Listen also: "Our artillery is working on us. And our tanks are working on us" – GUR interception
Vadim Rebrina
If you notice a spelling mistake, select it with the mouse and press Ctrl+Enter.
Source: liga.net