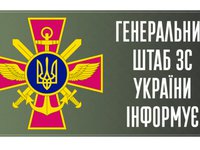 Foreign citizens, located on the territory of the Russian Federation, receive offers to be drafted into the ranks of the Russian army to obtain Russian citizenship, according to the operational information on the Russian invasion as of 18:00 of Monday, published on the Facebook page of the General Staff of the Armed Forces of Ukraine.
"On the territory of Russia, foreign citizens, who are placed on the waiting list for citizenship of the Russian Federation, are invited to voluntarily enlist in the ranks of the enemy army and automatically obtain Russian citizenship," the message says.
According to the General Staff, units with mobilized are expected to arrive at Kadamovsky training ground in Rostov region of the Russian Federation for the preparation and subsequent recruitment of units of the Russian occupation forces participating in hostilities in Ukraine. "First of all, the staffing will concern the private military company Wagner and the Bars detachments, which are constantly losing personnel in Ukraine," the report says.
Also, according to the General Staff, Moscow is putting pressure on commercial structures in order to financially support the enemy armed forces through the transfer of funds.
Fuente: interfax.com.ua