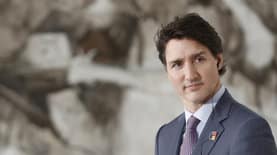 Prime Minister of Canada Justin Trudeau did not rule out the possibility of supplying tanks to Ukraine – the Canadian government will consider such a request from Kyiv, writes The Globe and Mail.
Follow us on Telegram: only important and verified news
On Monday, Trudeau was asked if he would agree to transfer Leopard 2 tanks to Ukraine if Germany lifted its veto on their re-export.
"We sent a huge number of different types of weapons, including an air defense system. We will consider all requests from Ukraine, but we have not yet reached the Leopard 2 tanks," Trudeau replied.
At the same time, he added: "We are ready to provide Ukraine with what it needs to defeat Russia."
Advisor to the head of the President's Office Mykhailo Podolyak said on Monday that Vladimir Zelensky will ask Trudeau for tanks if Germany drops its objections.
Canada has over 90 Leopard 2 tanks.
The issue of Leopard tanks will be considered on January 20 at a meeting of Ukraine's partners at the Ramstein airbase in Germany.
Poland has already promised to transfer a company of such tanks to Ukraine. Readiness to send tanks to Ukraine was also expressed by Finland.
Read also: "The ice has broken." The West gives Ukraine battle tanks: how many "Leopards" can the Armed Forces of Ukraine get
Andriy Vodyanyi
If you notice a spelling mistake, select it with the mouse and press Ctrl+Enter.
Source: liga.net