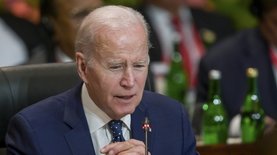 After months of discussions with Ukrainian officials, the US presidential administration Joe Biden is beginning to acknowledge that Kyiv may need force to strike Russian targets in temporarily occupied Crimea, even if such a move increases the risk of escalation. This is reported The New York Times citing several US officials who spoke on condition of anonymity.
Follow us on Telegram: only important and verified news
Previously, the United States ruled out providing Ukraine with weapons capable of hitting targets in Crimea. The publication writes that the position softened when the Biden administration concluded that if the Ukrainian military could show Russia that its control over Crimea could be threatened, this would strengthen Kyiv's position in any future negotiations.
Moreover, fears that the Kremlin would use tactical nuclear weapons in retaliation have faded, US officials and experts said, although they warned that the risk remained.
The newspaper writes that now the Biden administration is considering one of its most daring steps – helping Ukraine in the military de-occupation of the peninsula.
However, President Biden is not yet ready to provide Ukraine with the long-range missile systems that Kyiv will need to strike Russian targets on the peninsula, the NYT article says.
On September 12, Ukraine provided the United States with a list of weapons to continue the offensive in 2023. It has ATACMS missiles with a range of 300 km. When the head of the Pentagon Austin asked why the Armed Forces of Ukraine do not have ATACMS missiles, he replied – "it's not just about the equipment."
In December, the Times, citing a Pentagon source, wrote that the United States no longer insisted that Ukraine not strike targets in Russia.
On January 16, US Deputy Secretary of Defense for Political Affairs Colin Kahl said that the US recognizes the need for Ukraine to hit targets farther than the front line and is considering transferring heavy combat vehicles to the Ukrainian Armed Forces.
Today, Mikhail Podolyak, adviser to the head of the President's Office, said that it was time to transfer ATACMS long-range missiles to Ukraine.
See also: Zelensky called on the world to speed up assistance: Providing air defense should get ahead of new Russian missile attacks
Vadim Rebrina
If you notice a spelling mistake, select it with the mouse and press Ctrl+Enter.
Source: liga.net