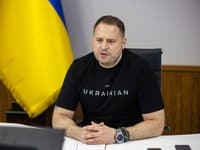 Head of the Office of the President of Ukraine Andriy Yermak during a video call discussed with the director of the Freeman Spogli Institute for International Studies (FSI), former U.S. National Security Adviser, Ambassador Michael McFaul the continuation of the sanctions policy and the action plan of the International Working Group on Russian Sanctions headed by them for the current year.
As reported on the website of the head of the Ukrainian state on Saturday, the head of the President's Office also announced support for the initiative to hold a sanctions summit in Kyiv with the participation of representatives of partner countries, which will be a powerful signal of readiness to increase sanctions pressure.
"The NSDC of Ukraine has already started applying sanctions against propagandists and we discussed the importance of introducing retaliatory restrictions by partners, in particular the United States, the United Kingdom, the EU, and others. Because it looks rather strange when some famous Russians criticize the United States but own property in Miami and travel there," Yermak said.
According to Yermak, the next sanctions package should include increased pressure on the financial and banking sectors of the aggressor country, as well as the introduction of sanctions against Rosatom and persons involved in the attacks on Ukraine's nuclear power plants.
"I also consider it very important and will be grateful for it if we develop a special sanctions package, which will involve blocking visas for Russians. I think it will be very effective, especially if it affects all Russian military personnel involved in the war in Ukraine and members of their families," the head of the Office of the President of Ukraine said.
Speaking about the work plan for 2023, Yermak and McFaul agreed on the importance of using the expertise of the International Working Group in the process of drafting legislation in Congress.
First Deputy Prime Minister, Minister of Economy Yulia Svyrydenko, who also participated in the call, proposed expanding the approach to the development of sanctions policy and applying restrictive measures not only to separate individuals or legal entities but also to sectors of the economy. It is, in particular, about the continuation of sanctions pressure on the financial sector, the defense industry, and the introduction of sanctions against the IT industry, whose representatives participated in cyber attacks on Ukrainian public institutions and coordinated kamikaze drone strikes on the critical infrastructure of Ukraine.
Svyrydenko also emphasized the importance of closer coordination of partner countries with Ukraine in the issue of the application of sanctions and more active implementation of restrictions mirroring those implemented by the NSDC by partners.
The parties agreed to discuss these and other issues during a Yermak-McFaul group video conference scheduled for next week.
Fuente: interfax.com.ua