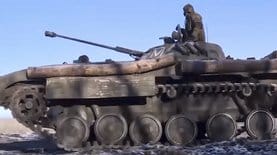 The Russian occupiers are reinforcing the grouping of troops in certain sections of the Zaporozhye direction. This was announced on the air of the national telethon by the speaker of the Tavria group of troops Yevgeny Yerin.
Follow us on Telegram: only important and verified news
According to him, in the direction of Zaporozhye, the enemy is focused on strengthening their positions, creating engineering barriers and minefields.
He noted that the Russians are also strengthening the grouping in certain areas, but it cannot be said that they are ready for a massive offensive.
"In any case, we assess the situation and prepare for any development of events, including the activity of the enemy," Yerin said.
Read also: Russia fired rockets at Zaporozhye at night: there are wounded and destruction
Dmytro Hrynychenko
If you notice a spelling mistake, select it with the mouse and press Ctrl+Enter.
Source: liga.net