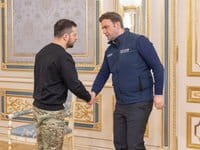 President of Ukraine Volodymyr Zelensky has held a meeting with incumbent head of the OSCE, Minister of Foreign Affairs of Northern Macedonia Bujar Osmani, during which he expressed hope that the OSCE would use all possible means to pressure the aggressor in order to curb human rights violations in the temporarily occupied territories of Ukraine.
"We demand an increase in the OSCE's attention to two key problems: the forced deportation of women and children to the territory of the Russian Federation and the conditions of detention of Ukrainian prisoners of war. These are very important things for us," Zelensky stressed.
As reported on the website of the Head of the Ukrainian state, the President of Ukraine congratulated Northern Macedonia on the beginning of the OSCE chairmanship and noted the importance of Minister Osmani's first foreign visit to Ukraine in the status of the OSCE Chairman-in-Office. "This is very important for us. We are grateful to the OSCE for consistently supporting our state since the temporary occupation of some parts of our territory in 2014," Zelensky said.
He paid special attention to the importance of implementing the Ukrainian formula for peace and invited the Macedonian Presidency to participate in this process. The Head of the Ukrainian state separately thanked the government and the people of Northern Macedonia for the humanitarian and defense support of Ukraine from the very beginning of the full-scale Russian invasion.
For his part, Osmani noted that the issue of Ukraine's security is a priority of his presidency.
Fuente: interfax.com.ua