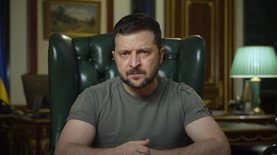 President Vladimir Zelensky during an online participation in the World Economic Forum in Davos, he said that he did not consider the crash of a helicopter with the leadership of the Ministry of Internal Affairs an accident. According to him, this is the result of the war of the Russian Federation against Ukraine.
Follow us on Telegram: only important and verified news
The host called the helicopter crash in Brovary an "accident", to which Zelensky replied:
"You called it an accident. I would like to say that I believe, because of the experience of war that I and our society have today, this is not an accident, this is war. Just war is not only on the battlefield. war has several directions: no more accidents, all this is the outcome of the war, absolutely all these steps, everything that happens.
Rockets that hit our people, the civilian population… What happens when children die in kindergartens and schools. Someone may disseminate information that "we did not aim at the civilian population, but we wanted to hit the energy infrastructure of Ukraine, but it happened" or something else. These are just superfluous words. All this, every person and every death is the result of war," the President said.
When asked if he was worried about his personal safety in the context of a helicopter crash with the leadership of the Ministry of Internal Affairs, Zelensky replied: "I'm not worried. I have nothing to add."
Vadim Rebrina
If you notice a spelling mistake, select it with the mouse and press Ctrl+Enter.
Source: liga.net