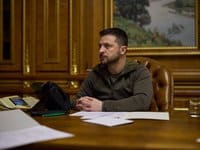 President of Ukraine Volodymyr Zelensky has held a telephone conversation with Prime Minister of the United Kingdom of Great Britain and Northern Ireland Rishi Sunak and thanked him for providing military support to the Ukrainian side.
"Always strong support of the UK is always impenetrable and ready for challenges. In the conversation with the Prime Minister, Rishi Sunak, I thanked for the decisions that will not only strengthen us on the battlefield, but also sent the right signal to other partners," Zelensky said on Telegram on Saturday.
Earlier, Sky news reported that the British authorities are considering sending Challenger 2 battle tanks to Ukraine, which are the main battle tanks of the British ground forces.
On Wednesday, the Financial Times, citing a representative of the British government, reported that Sunak asked Defense Minister Ben Wallace to work with partners in order to resolve the issue of sending further aid to Ukraine, including tanks, as soon as possible. FT says that in this case, the United Kingdom will be the first state to supply Ukraine with modern combat tanks.
British media reported on Saturday that Sunak had agreed to send Ukraine a company of tanks, and four vehicles in the near future. A tank company in the NATO armies is armed with 12 to 15 combat vehicles.
Fuente: interfax.com.ua